Today's post shall have the two tongues of Upper and Lower Canada.. but before that, inspired by a recent discussion with some regarding Shakespeare, Pessoa and Tolstoi, I bring a piece I greatly enjoy, by Paolo Conte - " L'orchestrina " .
Aujourd'hui, j'ecrirai dans les deux langues du Haut et du Bas-Canada .. mais avant cela, inspirée par une récente discussion avec certains au sujet de Shakespeare, Pessoa et Tolstoï, j'apporte un morceau que j'aime beaucoup, de Paolo Conte - "L'orchestrina".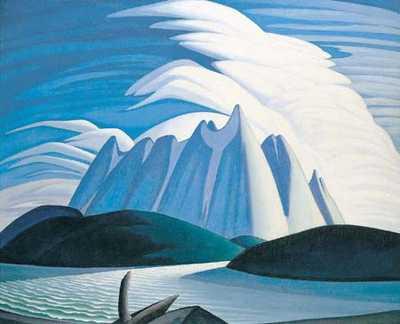 Lake and Mountains by Lawren Harris, 1928





Backdropp Addresses Cowboy






Starspangled cowboy
sauntering out of the almost-
silly West, on your face
a porcelain grin,
tugging a papier-mache cactus
on wheels behind you with a string,


you are innocent as a bathtub
full of bullets.


Your righteous eyes, your laconic
trigger-fingers
people the streets with villains:
as you move, the air in front of you
blossoms with targets


and you leave behind you a heroic
trail of desolation:
beer bottles
slaughtered by the side
of the road, bird-
skulls bleaching in the sunset.


I ought to be watching
from behind a cliff or a cardboard storefront
when the shooting starts, hands clasped
in admiration,


but I am elsewhere.
Then what about me


what about the I
confronting you on that border
you are always trying to cross?


I am the horizon
you ride towards, the thing you can never lasso


I am also what surrounds you:
my brain
scattered with your
tincans, bones, empty shells,
the litter of your invasions.


I am the space you desecrate
as you pass through.




Margaret Atwood

(

a

ut

hor

's

LIN

K)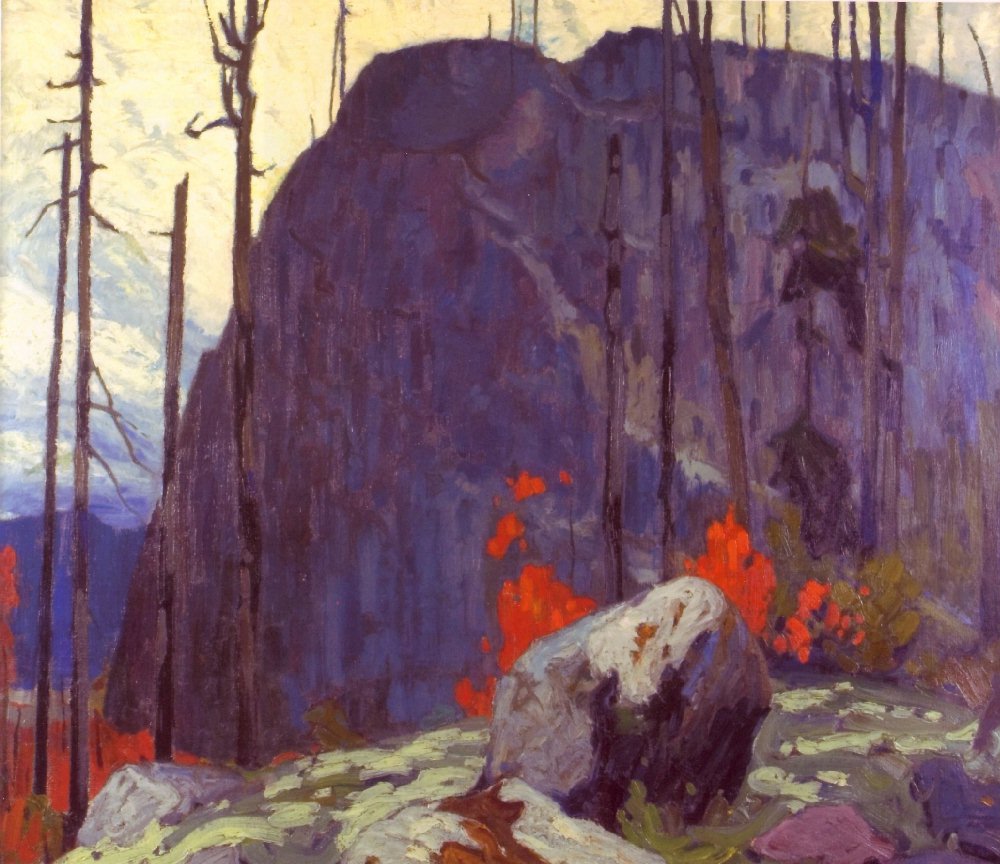 Algoma Hill - Lawren Harris

,1920
a landscape from an area north of Sault Ste. Marie, Ont.
117-by 137-centimetres oil on canvas and board
.
Harris was a founding member of the Group of Seven.
un paysage d'une région au nord de Sault Ste. Marie, Ont.
117-137-centimètres par huile sur toile et bois.
Harris a été membre fondateur du Groupe des Sept.

All the world's a stage,
And all the men and women merely players;
They have their exits and their entrances,
And one man in his time plays many parts,
His acts being seven ages. At first, the infant,
Mewling and puking in the nurse's arms.
Then the whining schoolboy, with his satchel
And shining morning face, creeping like snail
Unwillingly to school. And then the lover,
Sighing like furnace, with a woeful ballad
Made to his mistress' eyebrow. Then a soldier,
Full of strange oaths and bearded like the pard,
Jealous in honor, sudden and quick in quarrel,
Seeking the bubble reputation
Even in the cannon's mouth. And then the justice,
In fair round belly with good capon lined,
With eyes severe and beard of formal cut,
Full of wise saws and modern instances;
And so he plays his part. The sixth age shifts
Into the lean and slippered pantaloon,
With spectacles on nose and pouch on side;
His youthful hose, well saved, a world too wide
For his shrunk shank, and his big manly voice,
Turning again toward childish treble, pipes
And whistles in his sound. Last scene of all,
That ends this strange eventful history,
Is second childishness and mere oblivion,
Sans teeth, sans eyes, sans taste, sans everything.

William Shakespeare


(an author who had inspired another, one of my all time favourites - Fernando Pessoa -
Un auteur qui a inspiré d'autres, dont l'un est un de mes favoris de tous les temps - Fernando Pessoa
)
Crown me with roses

Crown me with roses,
Crown me really
With roses-
Roses which burn out
On a forehead burning
So soon out !
Crown me with roses
And with fleeting leafage.

That will do.
Ricardo Reis
Fernando Pessoa (1888-1935) had at least 70 heteronyms.
The heteronyms: Alberto Caeiro, Ricardo Reis
and Álvaro de Campos are among those most common.
- the above poem
and some of the others that were

originally written in

English
can be found here
-
This Link
Swallows - Benjamin Chee Chee, 1974
And last but definitely not least...
The wonderful
Emile NELLIGAN
(1879-1941)
Et enfin,
il pourrait bien être
le début, en effet
...
La merveilleuse
Emile NELLIGAN
Chopin
Fais, au blanc frisson de tes doigts,
Gémir encore, ô ma maîtresse !
Cette marche dont la caresse
Jadis extasia les rois.
Sous les lustres aux prismes froids,
Donne à ce coeur sa morne ivresse,
Aux soirs de funèbre paresse
Coulés dans ton boudoir hongrois.
Que ton piano vibre et pleure,
Et que j'oublie avec toi l'heure
Dans un Eden, on ne sait où...
Oh ! fais un peu que je comprenne
Cette âme aux sons noirs qui m'entraîne
Et m'a rendu malade et fou !
. . . . .
This is a long POST, I know, but it's been quite a while since last I visited
either of my Canadas: Upper, Lower, or any other for that matter...


A Happy day to everyone, Canadian and Non-Canadian alike.